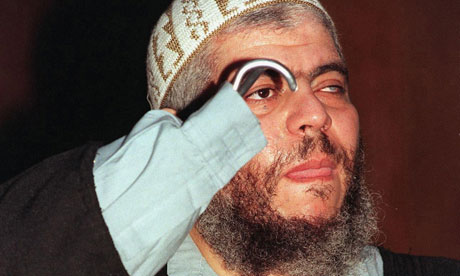 Today, the European Court of Human Rights (ECtHR) has decided that Abu Hamza and four other alleged terrorists can be extradited for trial the the United States.  The decision is a powerful one, that could not have come as much of a shock to anyone who followed the initial hearing before the court. They were scathing of the Section 3 arguments  by the all the applicants. And today, Joshua Rozenberg's piece in today's Guardian says it all. 
Rozenberg argues that despite the often ill founded criticism of the court its judges 'do live in the real world ', though there are many of our legislators and  media who do not believe that.
The last four decisions affecting the UK do not go all one way. The Hamza  case together with the court's decision supporting  our whole life tariff, when life means life, have gone in the UK's favour.
 The cases of  the  prisoners' votes and the refusal of the court to rubber stamp the extradition to Jordan of Abu Qatada, are decisions that were  right in law.
Much of the debate about these two cases surrounds the commentators unhappiness with the UK's membership of the Council of Europe. The dissatisfied litigant normally does not have the oportunity of walking away from the court. But our membership of the  Council of Europe and of the ECtHR is voluntary. We could walk away. But like the restoration of the death penalty and our withdrawal from the EU, this is not going to happen.