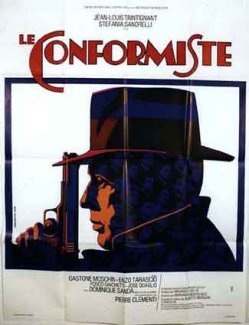 After many years promising Anne that I would sort out four or five shelves supporting forty or fifty recorded VHS, and the same quantity of Betamax, tapes, I've eventually got round to the job.
The first tape from which I blew the dust was Bertolucci's "Il Conformista" The Conformist. Set in Fascist Italy, it's a wonderfully architectural evocation of that period.
When I searched the movie database, I was mystified to see the film is not available in the United Kingdom either on VHS or, better still, DVD.
I believe Paramount hold the rights over this masterpiece. How about e-mailing
http://www.paramount.com/
and pestering them to issue the film?
Cheers
t